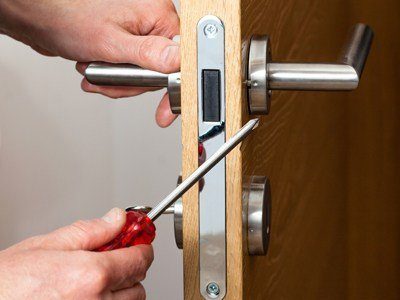 Get your lock professionally installed/repaired by our team of technicians.
Call us and have your lock-related issue solved as fast as possible. Our professional locksmiths will arrive at the requested destination in thirty minutes. We only use trustworthy deadbolt systems. We offer top quality services such as:
on site lock installation, repair
customized assistance and diagnosis
residential, office, commercial, and auto intervention
Locksmith service for installation
There are times when you find yourself in the unfavorable situation of having your house burgled or your lock severely damaged. Whether it is due to its old age or because of the inconvenient matching to the whole door system, you may find yourself in the situation of having to have your lock replaced. Not only this set of actions can be distressing, but also can bring financial burden.  Not only it is stressful to deal with the struggle of multiple failed attempts to change the lock by yourself, but also it becomes more and more upsetting to keep your home unsecured for longer periods of time.
We know how unpleasant such experiences are, both for you and entire family. In case of lock installation, we provide specialized assistance at minimal cost. We provide qualitative office and residential locksmith services. Our team of experts will make sure to dear with any type of lock, from cylinder deadbolts to a mortise locks. Moreover, we are well accustomed to modern types of doors and materials, from classical wood to stainless steel. Whether you have just acquired an elegant French door for your house or a patio sliding door, and even bi-fold doors, we guarantee we will offer customized service, without damaging your door.
Sometimes, lock replacement and installation can become a burdensome process. Especially when you are in a hurry and have no specialized locksmith skills, installing a lock can be a real challenge. For example, a malfunctioning lock can be the result of a poorly fitting door. The mechanism may not work due to various problems: the lock can be dirty, insufficiently lubricated, or even frozen. Even if you remove the broken lock, installing a new one can bring a lot of challenges: fitting the lock, adjusting its position so that you can properly operate it, tightening the cylinder setscrews. Not to mention, the possibility of improperly installing the lock and gradually damaging its components over time.  We understand installing a lock can be a costly investment and a stressful experience. Our professional team to provide you with  qualified services and advice in order for you have your lock installed.
Locksmith service for repair
We provide professional services for both installing and repairing locks. Locks may need repair either because they have become old or simply because they have not been properly installed. Locks may not work properly from various reasons. The most common problems related to malfunctioning include: stuck deadbolts, breaking a key in the lock, misaligned latch, and slow movement of the door lock. Our team of experts offers you professional services based on long-term experience in handling any type of lock repair. We only use  the best tools and take into consideration any of the previously mentioned problems. We will rapidly diagnose and start intervention in order to solve your lock-related problem. It may be tempting to try and repair the lock by yourself. However, you may risk damaging it even more.
Although some issues  may seem intuitive such as pulling the door knob or forcing the key in order to unlock the door, you can end up worsening the situations. Also, some problems, although simple in their nature, can be unsolvable without the help of a professional locksmith. For example, a lock may simply need to be cleaned out and oiled in order to maintain its proper movement.
Even a newly acquired lock needs proper oiling. Or the deadbolt can cease to function  properly due to a misalignment of its internal parts. You should avoid trying to force or brutalize a lock in order to repair it. Call our professional team and our experts will help you prevent problems and will provide you with the best solutions. There is no need for you to damage your door and spend even more money trying to repair both the lock and the door. We offer professional diagnosis and intervention in the shortest amount of time. We also offer a wide variety of locks. Our professional providers, such as:  Era Products to Multi-Lock, Union, Chubb Locks, Mila, and Assa Abloy, produce modern deadbolts and accessories so you can enjoy the safety of your home or workplace.
Safe and secure services
Don't put your safety and security at risk by not having your locks installed and repaired by a professional. One of our certified technicians will professionally install and/or repair your locks. They are familiar with all types of locks, brands and models. This way, you know you are safe in your own house. If you bought a new door and you need a lock for it, remember that we carry with us only top quality lock-sets. Give us a call, and we will deliver them to you as fast as possible. If your lock is broken, we can repair it for you at the lowest price on the market.  Call us anytime, 24/7, and we will be there in less than 30 minutes. Get your lock professionally installed/repaired by our team of technicians.
By contacting our experts, you can make sure to have a proper lock installation. Moreover, you can prevent any problems by receiving customized advice from our professional locksmiths. Our specialized team is well accustomed to the current market and to the risk trends that may threaten your security.
WHAT IS INCLUDED
No Call Out Charge
Free Quote
All London Postcodes
All Lock Changes
Qualified Locksmith
Quick Response